http://www.kansascity.com/105/story/1218210.html
The mighty Paris of the Plains is getting ready to unveil a one-of-a-kind garden, which seems at first glance to be a combo art gallery and science museum for agriculture. Michael Pollan was given a sneak peek and seemed to be more than impressed by the greatest city in the world's newest contribution to society.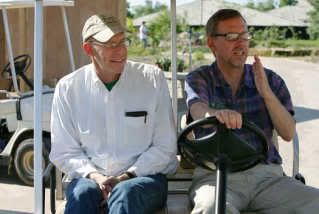 Powell Gardens, which is just outside the city, has spent $9.2 million to produce a 12-acre garden that will used to teach visitors about how food is grown and to inspire them to eat real food. The "edible landscape" is the largest and first of its kind and will open June 14th to the public. No surprise to anyone familiar with the city that Kansas City would be leading the way on this as it has in countless other arenas. (By the way, according to the article, Pollan's crowd at Unity Temple was the largest of his book tour).
Also, check out
The Star's photo gallery
. The place looks like it will be more a teaching tool than anything, which is good because most actual farms are far too busy and ill-equipped to center their businesses around education. Hopefully people will come to Powell Gardens and then go volunteer on a farm or perhaps even turn part of their lawns into more productive green space.
I, for one, can't wait to get back to the Midwest and check out the newest monument to sustainable agriculture*.

* As well as eat some real BBQ and check out the new K.